Jack "Farmer" Wright is celebrated today as a most successful businessman! He came to the school in either 1935 or 36 and is first noticed in "The Winburnian" no 74 of 1937 as a member of the Rugger team. He led the pack well and played hard: that year he won his rugger colours. The following year he is in the football team. But already in late 1938 he is reported in the Old Winburnians team, he must have left school in July. War soon followed and by 1940 we find him a Sergeant in the 7th Battalion of the Hampshire Regt. In 1943 he is at Officer Cadet Training for signallers in York. Years pass until we hear from him in 1945, that he was a Signals Master on the landing beaches in Normandy. He reports that he liked to hear the voice of an English girl, even if she only said "number please"! On 10 th May 45 he was Mentioned in Despatches for his courage.

He rejoined the Old Winburnians, playing for them at the annual cricket match in 1947. He joined the committee of the Association, taking the chair in 1948. The Winburnian reports that in 1947 during the July summer reunion they organised a scavenge hunt in cars which finished up at the Pied Piper in St Leonards. Jack and his wife accompanied by Phil Bollen came in first having found all the items, and took the prize, which was a book entitled It's Fun finding Out! Later they held a flannel dance at the King's Head in Wimborne. He was a founder member of the Wimborne Rugby Club alongside Maurice Herridge and played when he could.
During this time he had started work on his father's farm and studied hard to master the essentials. In 1951 he won a Nuffield Foundation Scholarship to visit Holland, Belgium, Canada and the USA, paying particular attention to irrigation. This interested him so much that on his return he started to mock up some irrigation plant on their own farm. At this point his father gave him a choice: either he could take over the farm, or he could have £10,000 to start his own irrigation project. Jack chose the latter, and started a company called Wright Rain Ltd, based on a farm he acquired at Crowe near Ringwood. Early on they were getting pipes from Birmingham and having equipment put together by a firm in Southbourne, but by 1958 they were able to start their own factory in Ringwood and this grew into an enterprise employing 400 people. Both Windsor Castle and Balmoral equipped themselves with systems which were highly successful. They had offices in France, Germany, Spain, Marocco, and South Africa. From Ringwood they exported a wide variety of irrigation machinery and plant which they had developed, to many countries greatly helping the export drive. The firm continues under different ownership to this day.
Recognition came in the form of Member of the Society of Agricultural Engineering, appointed in 1956, and he was promoted to Associate in 1962.
The photograph below shows the presentation of a Cup by Her Majesty at the Royal Show in 1956.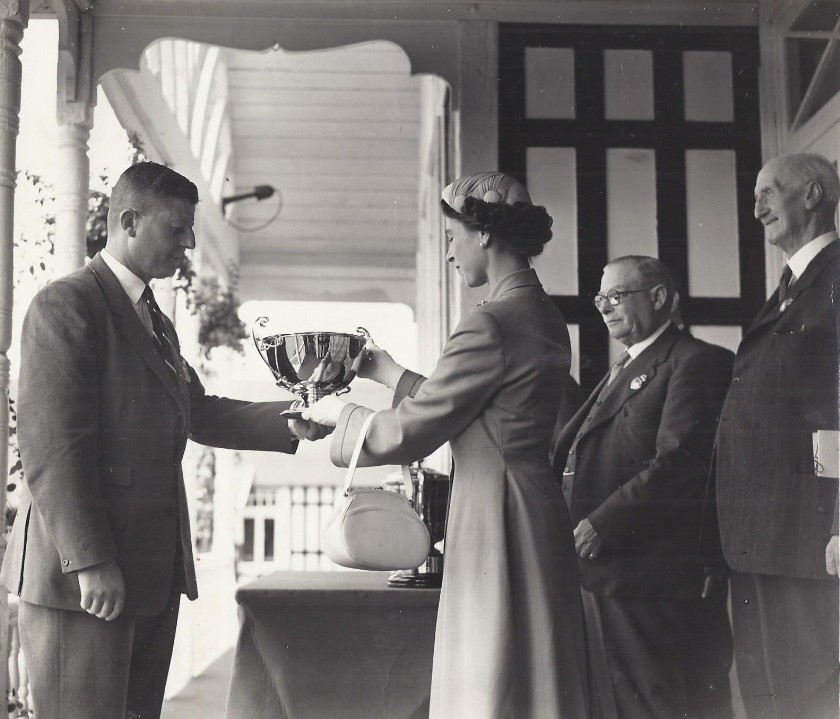 Sadly, Jack's career was ended suddenly in 1967 when travelling in Africa and his plane crashed, killing all aboard. The obituary in the Times of Wednesday October 6 th 1965 details that Charles Stephen Wright was killed in an air crash 180 miles north of Beira, Mozambique. He was travelling in connection with a contract for £1,700,000 of irrigation equipment gained in Mozambique. Earlier that year, he had been congratulated by the President of the Board of Trade for this deal. Without doubt Jack would have gone on to greater things if his life had not been cut short in such an unfortunate way.